Whilst in Zimbabwe on a visit, I tried to access my PayPal account and was unsuccessful. All I got after entering in my details was the following message:
Error 3028: You have accessed your account from a sanctioned country. Per international sanctions regulations, you are not authorized to access the PayPal system, For more information about your PayPal account status, contact complianceverification@paypal.com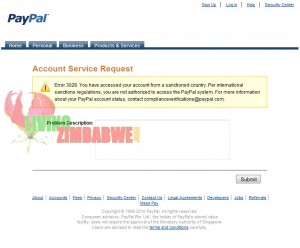 I do not have any political affiliations in Zimbabwe but here I find myself being affected by the TARGETED sanctions. My understanding was that the sanctions were targeted towards certain individuals and that they would not have an effect on the general population. My little experience obviously goes to show that this is not the case.
A week or two after my arrival there was a newspaper article about a university student who tried to get her hands on demonstration software from ETAP Enterprises Solutions. Getting a hold of the demo disc entailed entering her address into a form which she did do. She was later told that they would not be able to provide her with the disc due to trade sanctions against Zimbabwe.
I am not on the sanctions list and the student mentioned above may not be either. That experience has been an inconvenience and I am sure that there are a lot more Zimbabweans with no political associations who have experienced similar. It has also made me think about what kind of effect it has had on individuals, businesses and institutions that have been denied access to products and services that they would have otherwise have had the right to access. My guess is that they would have had a major negative that would have led to them finding a roundabout way of getting something or going without it completely and having to deal with it.
If you take a look at some of the individuals on the sanctions list, they are living very opulently. Many a people in Zimbabwe may have been able to better their lives and those of others had there been no sanctions. It just makes me wonder whether there is a point to the sanctions and whether or not they have really worked?