Four young Zimbabweans from different facets of life are up for a prestigious international honour under the 2012 Junior Chamber International (JCI) Ten Outstanding Young Persons of the World Program (TOYP). Tendai Wenyika, a political activist and Deputy President of the Pan Africa Youth Organisation, humanitarian and Harvard student Dalumuzi Mhlanga, Journalist Brian Hungwe and Businessman-cum-musician Tawanda Mutyebere are amongst the final 20 contestants in the global program, which identifies and honours ten young people from across the globe in various categories.
Announcing the achievement, 2012 JCI Zimbabwe National President Mr Spicer Munjeri, whose organisation identified the honourees at national level called upon the general public to support the young achievers through on line voting, which will partly contribute to the selection of the final 10.
"In celebrating the thirtieth anniversary of the JCI TOYP program which started in 1983, JCI has this year opened up an opportunity for the general public to contribute to the selection of the final ten by voting through Facebook. As a nation, lets show support for these young people creating positive change by voting through this platform", said Munjeri.
Munjeri added that the to have 4 Zimbabweans amongst the 20 finalists is a huge vote of approval for the impressive work young Zimbabweans are doing, and deserved national support.
"Their individual achievements deserve the recognition they have received", he said
Wenyika, who was nominated in the Political/Government of Legal Affairs Category, became the first female student to be elected President of a Students Representative Committee (SRC) at a Zimbabwean University. She went on to serve on the Zimbabwe Youth Council Board before getting involved with the Pan African Youth Union (PYU) where she oversees PYU programs across the entire South African region, fighting for active participation by young people in their countries. She has also taken part in several grassroots peace missions in many African countries and is an inspiration to young female politicians in the country and region.
Mutyebere, nominated for Personal Improvement and/or Accomplishment, rose from being a humble baker at the age of 23, to become one of the country's most recognised entrepreneurs, at the helm of the Slice fast food outlets that include the hugely popular Chicken Slice brand. Mutyebere's business' community involvement sets a strong example for both employees and business leaders that community action provides a sense of self-worth and unity within a corporate culture.
Mhlanga was recognised for mobilizing youth to be socially responsible citizens who address community needs through leadership, internships and service through an organisation he founded in Bulawayo, Lead Us Today. While studying in Swaziland, Mhlanga had also formed Career Support Initiative which helped young people make informed early career choices through holding Career Fares.
Brian Hungwe's work as a Journalist has seen him travel around war-torn zones in Africa, covering instances of human rights violations, violence and thefts despite incurring backlash from African authorities and risking his life. He carries an inspiring commitment to his work, going beyond his professional boundaries and using values and morals to direct his path.
Both Hungwe and Mhlanga were nominated in the Humanitarian and/Voluntary Leadership category.
The JCI TOYP is an annual international program that selects 10 outstanding young people under 40 who live the JCI Mission in extraordinary ways. It highlights the accomplishments of these young active citizens in a variety of fields, inspiring young people across the world to be better and realize our full potential as active citizens. The honourees motivate their peers to seek excellence and serve others. Their stories of discovery, determination and ingenuity inspire young people to be better leaders and create better societies.
Previous winners in the competition from Zimbabwe include Charlene Hewat (Environment Africa), Strive Masiyiwa (Econet), Advocate Sabelo Sibanda (School of African Awareness) and Betty Hazviperi Makoni (Girl Child Network).
JCI is a membership-based non-profit organization of 200,000 young people ages 18 to 40 in 5,000 communities and more than 100 countries around the world. Its members share the belief that in order to create lasting positive change, they must improve themselves and the world around us. They seek targeted solutions to the unique problems in our communities to build a better world, creating global impact.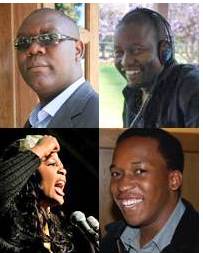 This has been a submission by Lloyd Ngwenya.
You can connect with Lloyd Ngwenya via the following: , , http://www.facebook.com/xoduster.
You too can become a Citizen Journalist by submitting your story here: Citizen Journalism by Living Zimbabwe.