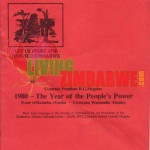 1980 – The Year of the People's Power (Gore reMasimba eVanhu – Umnyaka Wamandla Abantu) is a publication that was put out in 1980. It is a New Year Message to the people of Zimbabwe by Comrade Robert Gabriel Mugabe, the President of the Zimbabwe African Union ZANU (PF).
In it, he talks about the revolutionary triumphs and misfortunes that they face along the way. It also touches on the progress of certain objectives such as the ZANLA Forces Eleven Tasks, British colonisation, traitorous puppets working against the victorious Zimbabwean masses and other significant events in the liberation war (Chimurenga).
Here is an excerpt of the first two paragraphs: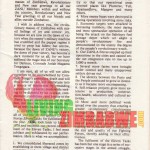 Revolutionary and New Year greetings to all the struggling and victorious masses of Zimbabwe, Revolutionary and New year greetings to all our ZANU Members within and without the country, Revolutionary and New Year greetings to all our friends and allies outside Zimbabwe.
I wish to address you, the revolutionary masses of Zimbabwe with mixed feelings of joy and sorrow: joy, because we are now on the dawn of victory when the enemy's military machine has crumbled and the puppet regime it tried to prop has fallen; but sorrow, because the dawn of ZANU's victory, the dawn of your victory, has become a dark moment for us all, for we have suffered the tragic loss of our Secretary for Defence, Comrade Josiah Magama Tongogara.
The full 12 page publication is available in PDF format for US$0.50. To purchase the publication visit the Living Zimbabwe Store or by clicking on the Buy Now button below which will take you through to PayPal

[wpsc_products category_id='3′ number_per_page='1′]